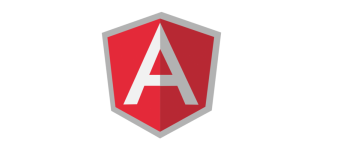 This tutorial provides a way for the browser to manage different versions of the same resource.
Because new version of your website is deployed, especially with a rich client, you may encounter some issues, like browser caching (ex: you have updated your-lib.js, but some users still experienced the old lib behavior : it's caused by browser cache on this file, they still have the old version and CTRL+F5 keys do not always resolves this).
Demo
You need Eclipse, Maven, Tomcat.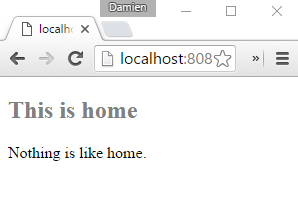 There are two parts: the vendor URLs version (like angular.js) and your app URLs version (like app.js, home.html, main.css).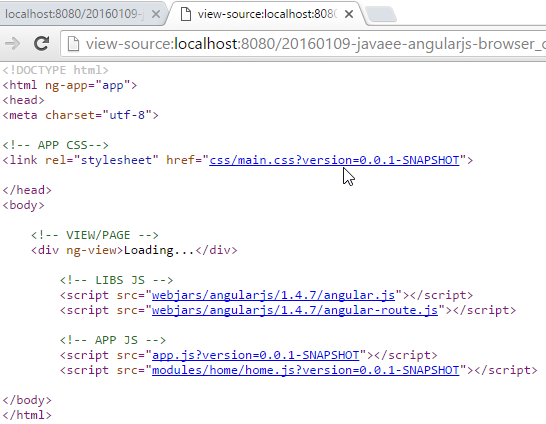 You can update versions in pom.xml.

And after restarting the app server, the URLs have changed.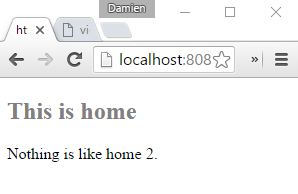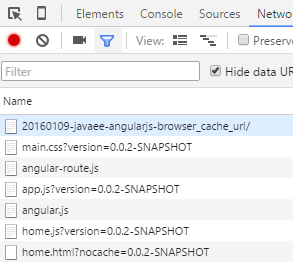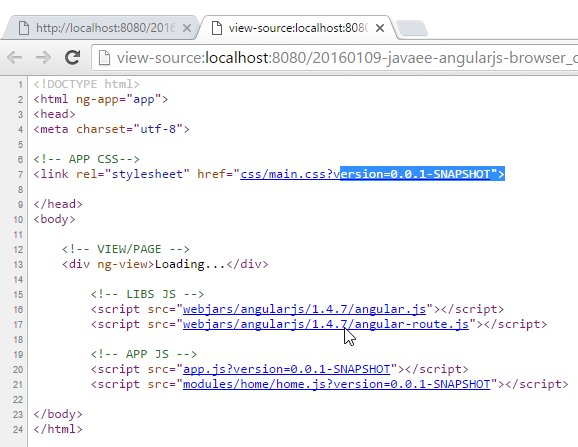 Details of vendor URLs version (like angular.js):
pom.xml: version

index.html: url

browser: real world

Details of webapp URLs version (like app.js):

Source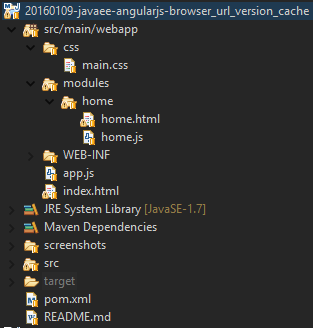 pom.xml
<project

 

xmlns=

"http://maven.apache.org/POM/4.0.0"

 

xmlns:xsi=

"http://www.w3.org/2001/XMLSchema-instance"


  

xsi:schemaLocation=

"http://maven.apache.org/POM/4.0.0 http://maven.apache.org/xsd/maven-4.0.0.xsd"

>


  

<modelVersion>

4.0.0

</modelVersion>


  

<groupId>

com.damienfremont.blog

</groupId>


  

<artifactId>

20160109-javaee-angularjs-browser_url_version_cache

</artifactId>


   
  

<!-- APP VERSION (USED FOR CACHE) -->


  

<version>

0.0.1-SNAPSHOT

</version>


   
  

<packaging>

war

</packaging>


  

<properties>


    

<project.build.sourceEncoding>

UTF-8

</project.build.sourceEncoding>


    

<java.version>

7

</java.version>


     
    

<!-- WEB JAR VERSION (USED FOR CACHE) -->


    

<angularjs.version>

1.4.7

</angularjs.version>


     
  

</properties>


  

<dependencies>


    

<dependency>


      

<groupId>

org.webjars

</groupId>


      

<artifactId>

webjars-servlet-2.x

</artifactId>


      

<version>

1.1

</version>


    

</dependency>


    

<dependency>


      

<groupId>

org.webjars

</groupId>


      

<artifactId>

angularjs

</artifactId>


      

<version>

${angularjs.version}

</version>


    

</dependency>


  

</dependencies>


  

<build>


    

<resources>


      

<resource>


        

<directory>

src/main/webapp

</directory>


        

<filtering>

true

</filtering>


        

<targetPath>

${project.basedir}/target/m2e-wtp/web-resources

</targetPath>


        

<includes>


          

<include>

index.html

</include>


        

</includes>


      

</resource>


    

</resources>

 
    

<plugins>


      

<plugin>


        

<groupId>

org.apache.maven.plugins

</groupId>


        

<artifactId>

maven-war-plugin

</artifactId>


        

<configuration>


           
          

<!-- REPLACE ALL FOR WEBJARS URLS -->


          

<webResources>


            

<resource>


              

<directory>

src/main/webapp

</directory>


              

<filtering>

true

</filtering>


              

<includes>


                

<include>

app.js

</include>


                

<include>

index.html

</include>


              

</includes>


            

</resource>


          

</webResources>


        

</configuration>


      

</plugin>


      

<plugin>


        

<groupId>

org.apache.maven.plugins

</groupId>


        

<artifactId>

maven-compiler-plugin

</artifactId>


        

<version>

3.1

</version>


        

<configuration>


          

<source>

1.${java.version}

</source>


          

<target>

1.${java.version}

</target>


        

</configuration>


      

</plugin>


    

</plugins>


  

</build>




</project>



app.js
'

use strict

'

;


 


angular

.

module

(

'

app

'

,

 

[

 

'

ngRoute

'

 

])


 


// CONFIG


 


.

config

(

function

(

$routeProvider

)

 

{


   
  

var

 

version

 

=

 

'

?nocache=${project.version}

'

;


   
  

// ROUTE: URLs


  

$routeProvider


  

// HOME


  

.

when

(

'

/home

'

,

 

{


    

templateUrl

 

:

 

'

modules/home/home.html

'

+

version


  

})


  

// DEFAULT


  

.

otherwise

(

'

/home

'

);




});



main.css
index.html
<!DOCTYPE html>




<html

 

ng-app=

"app"

>




<head>




<meta

 

charset=

"utf-8"

>


 


<!-- APP CSS-->




<link

 

rel=

"stylesheet"

 

href=

"css/main.css?version=${project.version}"

>


 


</head>




<body>


 
    

<!-- VIEW/PAGE -->


    

<div

 

ng-view

>

Loading...

</div>


         
    

<!-- LIBS JS -->


    

<script

 

src=

"webjars/angularjs/${angularjs.version}/angular.js"

></script>


    

<script

 

src=

"webjars/angularjs/${angularjs.version}/angular-route.js"

></script>


 
    

<!-- APP JS -->


    

<script

 

src=

"app.js?version=${project.version}"

></script>


    

<script

 

src=

"modules/home/home.js?version=${project.version}"

></script>


 


</body>




</html>



home.html
<div

 

ng-controller=

"HomeCtrl"

>


  

<h2>

This is home

</h2>


  

<p></p>




</div>



home.js
'

use strict

'

;


 


angular

.

module

(

'

app

'

)

 

//


 


.

controller

(

'

HomeCtrl

'

,

 

function

(

$scope

)

 

{


  

$scope

.

message

 

=

 

'

Nothing is like home.

'

;




});



web.xml
<web-app

 

xmlns=

"http://xmlns.jcp.org/xml/ns/javaee"


         

xmlns:xsi=

"http://www.w3.org/2001/XMLSchema-instance"


         

xsi:schemaLocation=

"http://xmlns.jcp.org/xml/ns/javaee
     http://xmlns.jcp.org/xml/ns/javaee/web-app_3_1.xsd"


         

version=

"3.1"

>


   
  

<servlet>


    

<servlet-name>

WEBJARS

</servlet-name>


    

<servlet-class>

org.webjars.servlet.WebjarsServlet

</servlet-class>


    

<init-param>


      

<param-name>

disableCache

</param-name>


      

<param-value>

true

</param-value>


    

</init-param>


    

<load-on-startup>

2

</load-on-startup>


  

</servlet>


  

<servlet-mapping>


    

<servlet-name>

WEBJARS

</servlet-name>


    

<url-pattern>

/webjars/*

</url-pattern>


  

</servlet-mapping>


 


</web-app>



Project
https://github.com/DamienFremont/blog/tree/master/20160109-javaee-angularjs-browser_url_version_cache https://github.com/DamienFremont/blog/tree/master/20160109-javaee-angularjs-browser_url_version_cache
Origin
https://damienfremont.com/2016/01/09/javaee-angularjs-browser-urls-cache-and-version/